What People Have to Say About PHIP  
We know that learning takes courage, diligence and practice. As human beings it is our greatest gift…to be able to learn, change and grow.
Read what others have experienced with PHIP….
Excerpts from a longer testimonial we received from a woman after completing the PHIP course….

"I've suffered from chronic pain"…"Through the course; I became very aware of how my thinking could be causing my symptoms to be much worse." "While participating in PHIP I was able to gain important insight, through the self-awareness exercises, and learned techniques to change my way of thinking."…."I am now seeing the glass as half-full again!"…."I confidently recommend the PHIP to everyone, weather you suffer from a long-term condition, pain, everyday stress, or which to use the tools and techniques in a preventative manner, it will no doubt improve the quality of your life."…

A gentleman wrote, I loved this course and learned so much. I have put many things into practice and it is really helping me."
"I am very grateful to this program. It has helped me in many areas of my life. Most importantly, it has given meaning to my life again and restored HOPE in a hopeless situation. I thank God for you all!"….

Another participant shared…." I am so sorry for the delay in writing to you. My summer has been a little mixed up with the death of my father and my son getting married. We have and are learning to make adjustments. So this class has really helped to make things easier. I am so appreciative of all the help from Mertech and PHIP. Thanks you!" …

The PHIP program is a program I highly recommend.  And I do when I run into people with similar pain issues.  It is my belief that without the knowledge that I gained from my participation in your program that I would be having a much more difficult time dealing with my recovery, especially the last one.  It is a constant battle dealing with the type of pain one incurs and very few people understand that unless they have the misfortune to have experienced it.
Mentally, physically and spiritually the discomfort one goes through can absolutely bring you to the brink of insanity and the techniques that your course passes on address those issues in a clear and concise manner to not only to the student but also those people that have to be in contact with the patient on regular basis.
Thanks a million

"I feel the course was very helpful, but should be longer. Overall—I did learn another skill in combating my anxiety and panic attacks. I realize I am in control of how I react to things and others."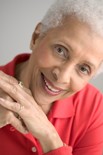 A participant shared her comments in an email…"I really got a lot out of the 6-week program and have improved my mental and physical health. The program was wonderfully put together and I was amazed that you can change your life in just 6 weeks. Before I started this program, I was very depressed, the glass was empty. After the PHIP the glass is overflowing. I am happy and optimistic again. I continue to use the steps learned in the program to make my life better. Thanks to all who help people live a happier and healthier life."
PHIP Program Roadmap
Take a few minutes and listen to any or all of the program topics from an interview with one of our PHIP Facilitators.  Simply click on the topic of your choice.
Life Skills 101 -Program Overview
Making a Clear Request
Saying NO
Awareness
Moods
Assessment & Assertion
Chronic Pain
Participant's ratings immediately after taking the program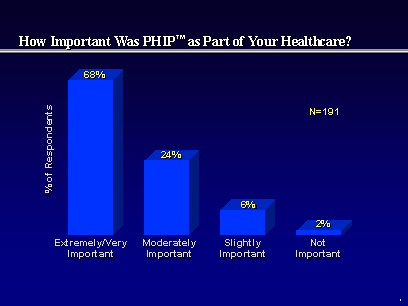 Participants still think that the program was helpful 6 months after taking the program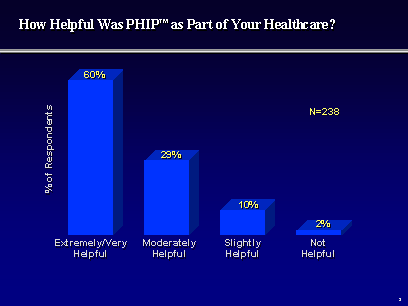 How do I enroll in PHIP?
To enroll in PHIP or obtain further information about the program please call 1-888-794-7447 (Or) you may click here and someone will contact you.